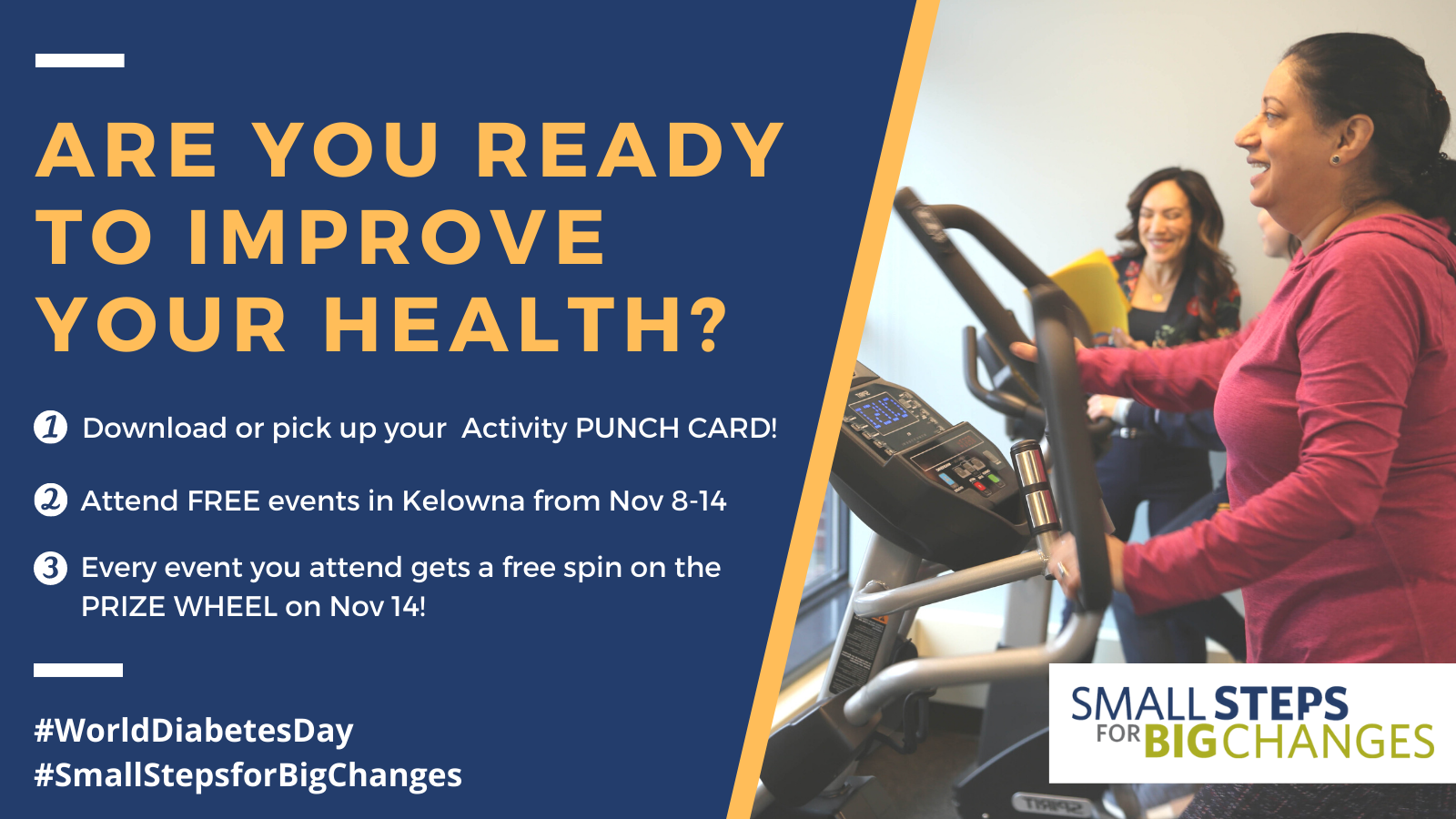 1 in 3 Canadians have diabetes – do you know your risk of developing type 2 diabetes? Are you tired of being inactive at home? Are you ready to improve your health? Want to try a new activity?
If you answered "yes" to any of these questions, we invite you to take part in this years' World Diabetes Day events sponsored by Small Steps for Big Changes at UBC Okanagan.
We're hosting a week of FREE online and in-person events in Kelowna to promote healthy living. EVERYBODY is welcome! Attend a free cooking class, try pickleball, come listen to our expert speakers, dance Zumba, and more!
Also, did we mention there will be prizes?! We have some amazing swag and generous sponsors from local businesses… and a prize wheel!
Stop by Rowcliffe Park (on the corner of Rowcliffe Ave and Richter St.) on Sunday, November 14th between 11am – 3pm to spin the prize wheel and join in on our free beginner exercise classes.
Convinced yet? Here's how you can participate:
Step 1: Pick up your ACTIVITY PUNCH CARD at one of our events or download here!
Step 2: Attend FREE events online and throughout the City of Kelowna from Nov 8-14
Step 3: Every event you attend gets a free spin on the PRIZE WHEEL on Nov 14!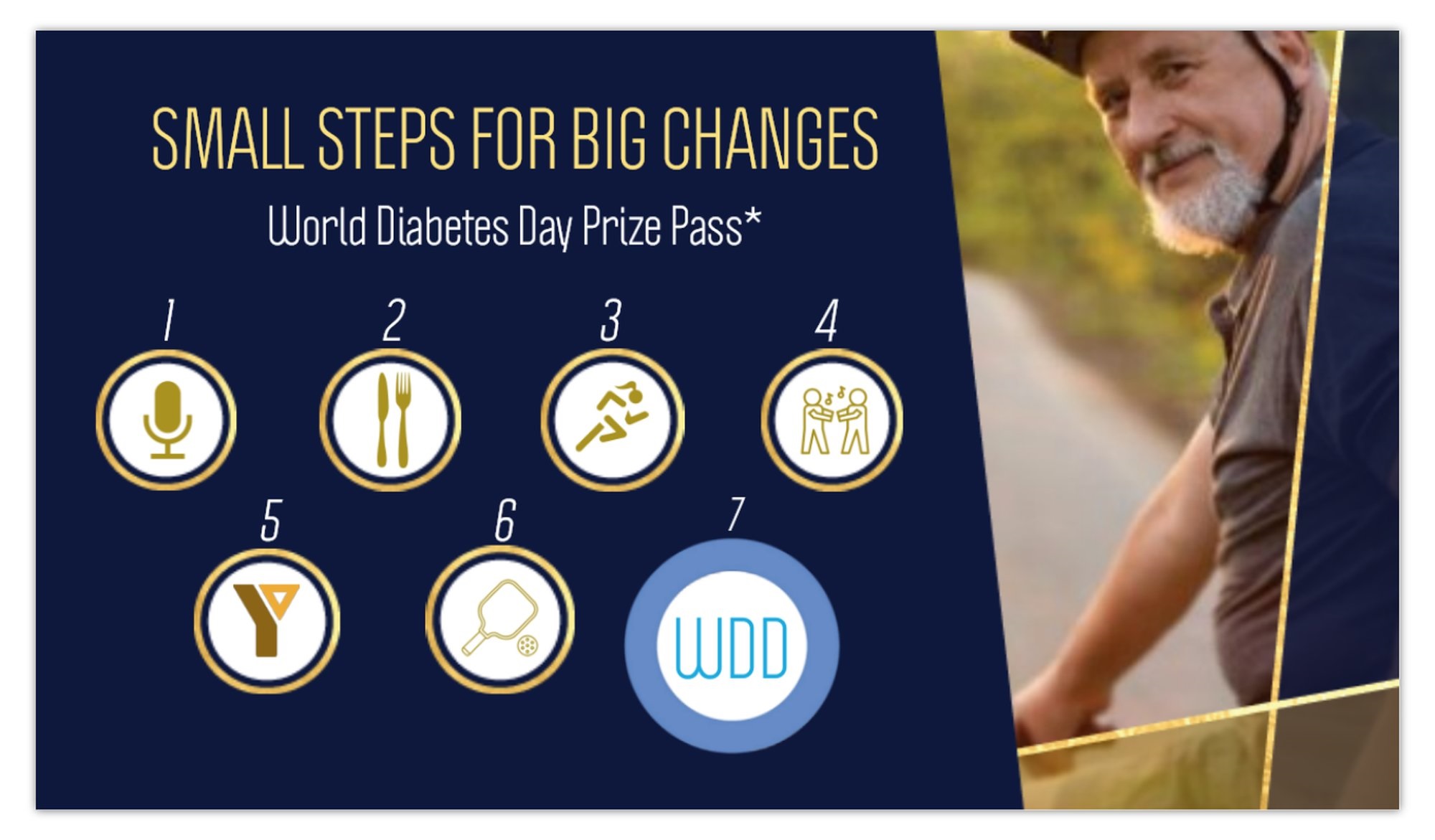 ---
We're hosting the following activities online and in Kelowna from Nov 8-14:
Mon Nov 8: "Holiday eating 101: tips, tricks, and toasts!"
Help us kick off our week-long extravaganza with a special seminar on how to eat healthy during the holidays!
Where: Great Room (upstairs) at the Okanagan Public Library (1380 Ellis St) OR join us virtually on Zoom!
When: Mon, Nov 8, 5-6pm
Space is limited so make sure to register ASAP by emailing us at small.steps@ubc.ca!
Tues Nov 9: Try the Y!
Ever wanted to try aqua aerobics, group strength, yoga, cycling, and more? Sign-up for a 7-day FREE trial at your local YMCA and explore everything the Y has to offer!
First, sign up for "Try the Y"! Head to https://www.ymcaokanagan.ca/join/membership and click "try the Y" for your free 7-day pass – no credit card required!
Then, reserve your space for a class by calling your local YMCA! See full schedule of classes by clicking the following links:
Wed Nov 10: YMCA@Home
Did you know that you can attend a YMCA class without leaving the comfort of your own home? Complete this activity by checking out the FREE content on the YMCA@Home platform. Simply head to https://www.ymcahome.ca/fitness, choose a class, and work up a sweat without leaving your house!
Choose from a huge selection of on demand classes ranging from gentle fit to cardio – there's something for everyone!
Thur Nov 11: Zumba
Dance like nobody's watching! Join us on Thursday for a virtual Zumba class with special guest instructor Kaleigh Hole!
Where: From the comfort of your own home! Join here: https://us02web.zoom.us/j/87302465284
When: Thurs, Nov 11 at 4-5pm!
Fri Nov 12: Pickleball
Whether you're a seasoned pickleball pro or never tried it before, you're invited to this special event! Coach Carlos has a wealth of experience teaching pickleball at all levels. Guaranteed to be tons of fun!
Where: Kelowna Family YMCA pickleball courts (375 Hartman Rd)
When: Fri, Nov 12 at 1:30-2:30pm
Please register for this event at small.steps@ubc.ca (we have a max capacity of 16)!
Sat Nov 13: Cooking class
Yes, a cooking class!! Join us on Saturday in person or virtually to learn how to make delicious and healthy meals on a budget! We are so excited to work with Red Seal Chef & Culinary Arts Instructor at Okanagan College, Kelsey Oudendag, for this unique event. We are offering TWO classes on this date, but register fast because we have a capacity limit of 8 people per class! You will work alongside Chef Kelsey at your own separate and distanced cooking station. In addition to learning how to make healthy food that tastes great, you will also be getting to take home what you cook!
Special thanks to the Central Okanagan Food Bank for generously donating food ingredients for this class!
Where: Okanagan College kitchen (1000 KLO Rd) OR join us virtually on Zoom. Click here to join the 10am class & click here to join the 2pm class!
When: Sat Nov 13th. Choose between 10am-12:30pm or 2pm-4:30pm
Please register for this event at small.steps@ubc.ca (we have a max capacity of 8 per class)!
Sun Nov 14: Join us on World Diabetes Day Rowcliffe Park!
Ready for those prizes we promised? Join us for our World Diabetes Day finale on Sunday, November 14! Participate in a special Zumba class from your favourite YMCA coaches, learn about Keenfit and try pole walking, assess your diabetes risk, and spin the prize wheel.
Here's a sampling of prizes that you could win!
Private mountain bike lesson from Okanagan Bike & Ski
Snowshoe rentals & day passes from Telemark
Goodie bag from Play Kelowna (includes travel mug, water bottle, socks, t-shirt and a Polar watch!)
Massage therapy session with Ron Mayne Massage Therapy
Walking poles from Keenfit
Gift cards to Kelowna Cycle
Goodie bag from Funktional
Portion plates
Small Steps for Big Changes swag
And more!
Thank you to all of our amazing local sponsors for generously donating to this event!
Please only plan to attend this event if you have been fully vaccinated against covid-19. We appreciate your help in keeping our communities safe and healthy.
Where: Rowcliffe Park (536 Rowcliffe Ave)
When: Sun, Nov 14, 11am – 3pm, rain or shine!!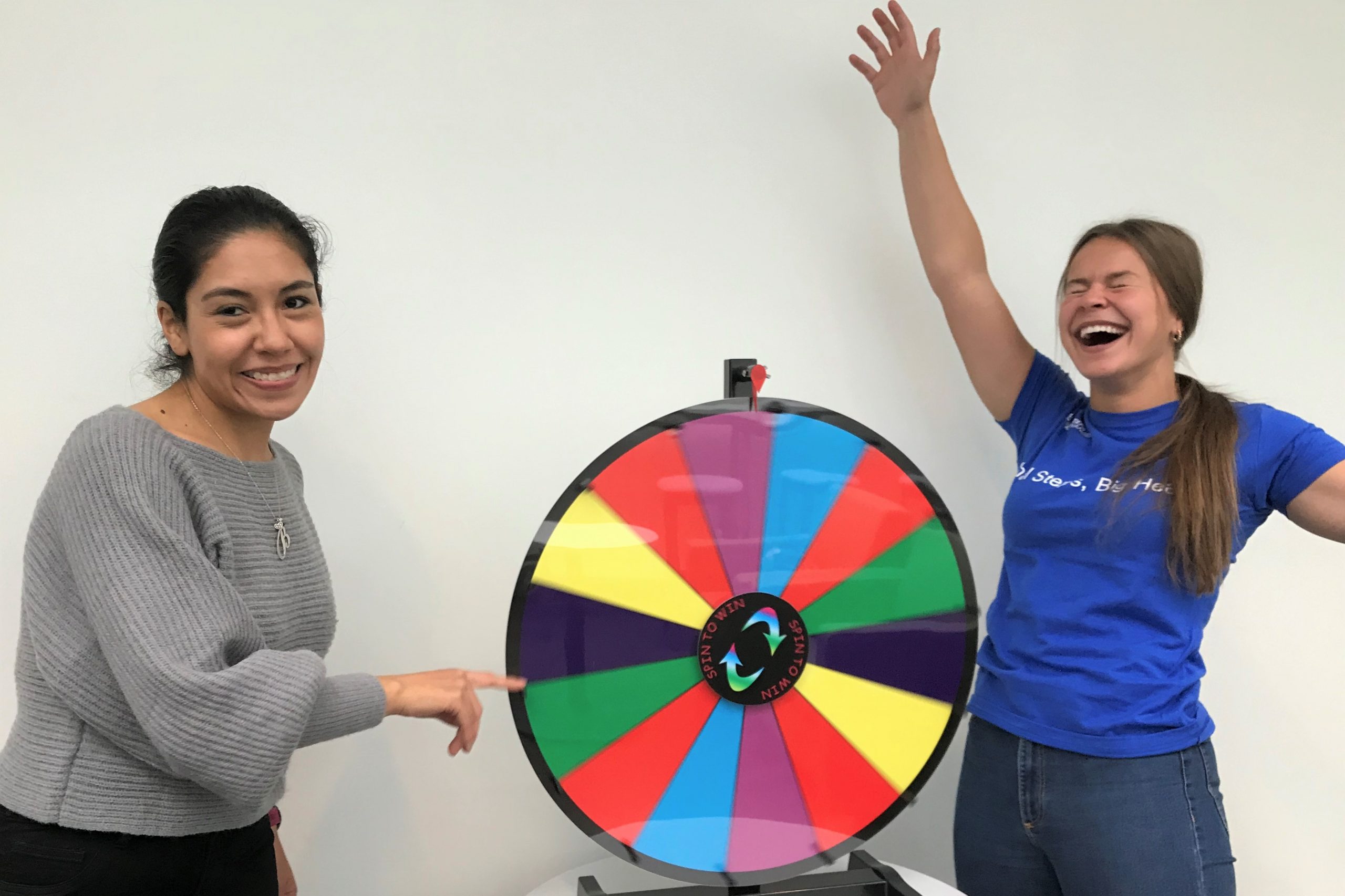 We can't wait to learn with you, exercise with you, and see you this Nov 8-14!